Aesthetic Services
Aesthetic Services
Acne Treatment in Amarillo, TX
Which acne treatment is best for you?
There are many treatments for acne, creams, washes and medications. If your acne has not responded to conventional treatments, maybe it's time to consider more professional treatments including microdermabrasion, chemical peels, and laser devices.
Contact Amarillo Laser & Vein Clinic to set up your complimentary consultation to discuss a treatment option that may work for you.
Dual-Light Acne Treatment
This dual-light acne treatment uses with intense pulsed light (IPL) SmartPulse™ technology to destroy acne-causing bacteria and reduces existing acne-related inflammation. IPL Dual Light Acne ensure precise and consistent energy to treat both the underlying cause and the visible symptoms of acne by using a combination of blue and red light. The blue light targets the porphyria produced by acne bacteria, leading to the destruction of the bacteria, while the longer wavelength of red light controls inflammation and promotes faster healing.
Acne Scars Venus Viva™ Treatment:
Venus Viva™ is a non-surgical solution for skin resurfacing that corrects signs of skin damage and improves the appearance of acne scars and other scars, stretch marks, rosacea, enlarged pores, deep wrinkles, and uneven skin texture and pigmentation.
Effective treatment for new and old acne or surgical scars anywhere on the face or body FOTONA Laser is ideally suited for the effective treatment of a wide range of scar tissues.
Laser scar-revision treatments are minimally invasive with faster recovery. For hypertrophic and keloid scars, we can achieve substantial improvements in the aesthetic appearance and overall tissue quality of a scar, including reducing redness, volume, and overall appearance. In many cases, further improvement can also be obtained using a gentle ablative Er:YAG skin resurfacing laser procedure. Acne scars in particular respond well to Er:YAG treatments, and we will recommend a treatment protocol specifically for you.
Recommended: 3-6 sessions for mild to moderate scarring
Recommended: 6-9 sessions for moderate to severe scarring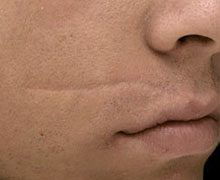 Chemical Peels for Acne:
A chemical peel uses an acidic solution to remove the outer layer of skin and stimulate the production of new skin cells. The strength of acids determines the depth of exfoliation.
At Amarillo Laser & Vein Clinic Dr. Jarrous and his staff use a medical grade skin product "ZO® 3 Step Peel" for chemical peels. These revolutionary skin products are suitable for all skin types and contains growth factors, antioxidants and collagen to reduce the appearance of acne scars.
Blu-U Light Photodynamic Treatment
If you have moderate acne and are uncomfortable taking antibiotics or are unhappy with your current topical treatment results, BLU-U® blue light therapy using light without drugs or antibiotics - may be something for you to try.
What is Blu-U Blue Light Treatment?
The BLU-U is a unique blue light that kills the P. acnes bacteria in your skin. Treatments are simple. Patients sit with their face close to the light for a short time at a schedule set up by your doctor, approximately a 17-minute session about once or twice per week. The treatments may go on for five weeks or so. It's safe, it's not hot, it's not painful.
If you are looking for an alternative to medications or antibiotics, this treatment might be just what you need.