Aesthetic Services
Aesthetic Services
DermaFrac Skin Treatment in Amarillo, TX
Are you looking for ways to improve the appearance of your skin? If so, you may want to consider DermaFrac skin rejuvenation. Skin imperfections don't stand a chance with this innovative technology designed to erase the signs of aging along with conditions that detract from the beauty of your skin. Isn't it time you looked and felt your best?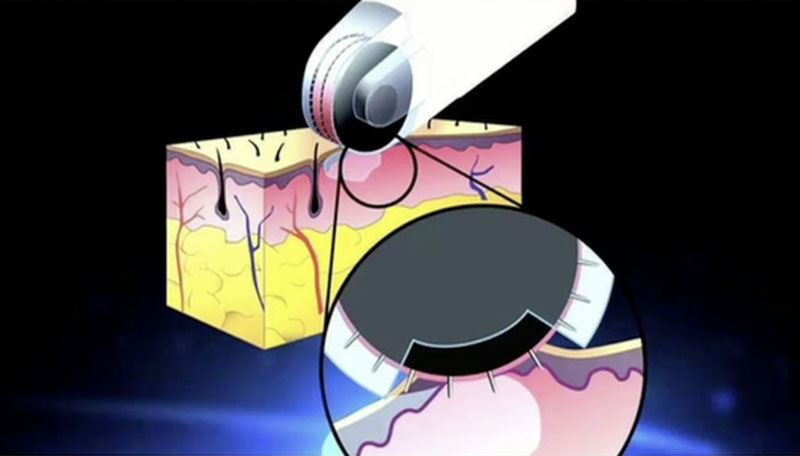 What Is DermaFrac?
DermaFrac is a unique new microneedling system that works to fight damage caused by aging, the sun, and acne. It works to create dermal micro-channels in the papillary dermis, while simultaneously infusing topical serums in a pain-free, no downtime treatment. The innovative system is designed to drive topical solutions to penetrate deeper into the tissue, resulting in superior skin rejuvenation.
How Does DermaFrac Work?
The precision-controlled handpiece, combined with a vacuum, draws the skin into contact with hundreds of microneedles that painlessly penetrate the epidermis and the upper dermis (papillary layer). This vacuum pulls the skin into the desired tension, allowing for predictable treatment with a controlled depth of penetration of the microneedles.
The micro-channels create pathways for infusing serum into the skin, delivering natural rejuvenation without bleeding or pain. Controlled injuries also stimulate the body's natural healing response, which triggers collagen production. The increased collagen tightens the skin, smooths out wrinkles, adds lost volume, along with improving the appearance of fine lines, scars, and stretch marks.
Conditions Treated by DermaFrac
DermaFrac has been clinically shown to significantly reduce the appearance of superficial fine lines and wrinkles, acne scars, stretch marks, enlarged pores, sun spots, uneven skin tone, and pigmentation. It also works to treat acne along with flaking and drying skin.
Outstanding Results with DermaFrac
Most patients enjoy significant results after the first treatment. To achieve lasting results, we recommend 4-6 DermaFrac treatments at least 2-3 weeks apart. You should experience dramatic improvement through the following six months to a year.
Treatments Available with DermaFrac
Anti-Aging Treatment: A "super cocktail" of peptides stimulates collagen and fibroblast production, along with relaxing the muscles in a subtle, natural way.
Skin Hydration:  Hyaluronic acid triggers intense hydration. A patented formulation using HylaSponge technology delivers sustained hydration of the skin.
Acne Treatment: Lactic and salicylic acids help control acne outbreaks.
Lightening: Kojic acid, a natural and effective skin lightening agent, has been shown to even out pigment.
Platelets Rich Plasma (PRP): This non-surgical skin repair system utilizes platelets extracted from the patient's blood using a centrifuge. The resulting PRP is rich in growth factors, the proteins that repair damaged tissue, stimulate the stem cells to produce more collagen, and smooth out the wrinkles in the skin. When infused into damaged areas of skin using DermaFrac, the result is added volume and elasticity, more even skin tone, and youthful improved texture. The skin will also begin to tighten and strengthen.
Stem Cells & Placental Cells: This dynamic combination used with DermaFrac is more powerful and effective than stand-alone serum.
DermaFrac™ with Stem Cells
Mesenchymal Stem Cell (MSC) biologics are living cells obtained from donated, full-term, and live birth pregnancies. Donors undergo a comprehensive screening process and testing, following standards established by the FDA to minimize risks of disease transmission to recipients. Stem cells need to be preserved at minus 85 degrees to stay alive.
Amarillo Laser & Vein Clinic is the first facility in the Texas Panhandle to offer stem cells to treat skin conditions. The stem cells are derived from Wharton's jelly, a substance in the umbilical cord that cushions and supports the umbilical vein and arteries. The jelly's cushioning and protective elements consist of a network of structural proteins, mesenchymal stem cells, cytokines, chemokines, growth factors, and hyaluronic acid.
DermaFrac, when used with stem cells combined with PRP, stimulates, rejuvenates, and repairs skin cells. This combination is more potent and effective than stand-alone PRP treatments.
DermaFrac™ with Amniotic Tissues (BioD)
Human Amniotic Tissues we offer are obtained from donated, full-term, and live birth pregnancies. Donors undergo a comprehensive screening process and testing, following standards established by FDA requirements to minimize risks of disease transmission.
BioD rarely causes an immune response in the human body and has been shown to have anti-inflammatory, anti-microbial, and anti-adhesive properties. It contains a bioscaffold as well as powerful proteins that activate stem cells, reduce inflammation, along with offering multiple benefits.
BioD is used in combination with PRP to stimulate, rejuvenate, and repair skin cells. This combination is more effective than the stand-alone PRP treatment but not as potent as stem cell treatment.

Best Skin Rejuvenation in Amarillo, TX
Contact Amarillo Laser & Vein Clinic to learn more about improving your skin health and appearance using DermaFrac. Our expert surgeon and team are committed to providing cutting-edge technology and techniques to deliver outstanding care and results. Call us and schedule your appointment today!