Aesthetic Services
Aesthetic Services
Dermal Fillers in Amarillo, TX
What are dermal fillers?
Dermal fillers are some of the most popular non-surgical skin rejuvenation treatments worldwide, and, we have multiple options available to address your static wrinkles - the signs of aging that are visible even when your face is at rest. Dermal fillers can help smooth multiple types of wrinkles, including: marionette lines, smile lines, corner lines and Lip lines. Dermal fillers are formulated from hyaluronic acid and other substances that contribute to natural skin volume. When injected underneath the skin surface with a fine needle, these substances begin immediately working underneath the skin to lift and smooth visible signs of aging.
During your consultation with Dr. Jarrous, your individual condition and preferences will be evaluated to determine if dermal fillers are the best course of treatment for you.
Restore volume to aging hands
Are there any side effects?
Aside from slight bruising, swelling, or redness at injection sites, these dermal fillers have a proven record of safety and efficacy. Most patients are able to immediately resume normal activities without complication. Results may vary, and multiple treatment sessions may be required in order to reach your desired appearance.
Contact Amarillo Laser & Vein Clinic today to schedule a consultation and find out how dermal fillers can smooth and lift your skin without extensive surgery or recovery time.
Juvederm Ultra Plus
Significant Lip Enhancement - The ability to fill more effectively makes Juvederm Ultra Plus the best option for those that want dramatic results. Deeper wrinkles - Juvederm Ultra Plus was designed to go deeper into the skin to fill out more severe wrinkles. Naso-labial folds - Again, Juvederm Ultra Plus outperforms when it comes to correcting naso-labial folds because it's thicker and goes deeper into the dermis. Areas with greater volume loss - because of its thicker consistency and cross-linking Juvederm Ultra Plus works better for those that have significant volume loss. This makes it the better option for filling out areas like the cheeks. Facial Shaping - Unlike Juvederm Ultra, Juvederm Ultra Plus is injected into the fat layers, which is ideal for facial shaping.
Belotero
BELOTERO BALANCE® is a prescription injection that is approved to temporarily smooth out and fill in moderate-to-severe nasolabial folds (the folds or wrinkles that go from the side of the nose to the corner of the mouth) and superficial fine lines creating a smoother, more even appearance. This treatment has immediate results.
Voluma® XC Facelift
Wrinkles and lines aren't the only signs of aging. Over time, the cheeks flatten, and the skin may begin to sag. This is caused by a natural loss of volume in the cheek area, or what the experts call age-related mid-face volume loss. JUVÉDERM VOLUMA® XC is made from hyaluronic acid (HA) which is a natural substance that delivers nutrients, helps the skin retain moisture and softness, and adds volume. In addition, it lifts and contours the cheek area.
How long does it last?
The treatment usually lasts 1-2 years and when treated again after 2 years, patients needed less product to achieve their results.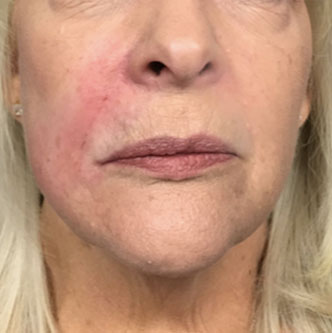 Radiesse®
RADIESSE is a wrinkle filler used to plump the skin. Immediately, this filler works to add volume under the skin and over time, The benefits of RADIESSE continue by naturally stimulating your body's own natural collagen. The natural results have been shown to last a year or more in many patients, making the treatment results both immediate and long lasting.
Radiesse® Hand Rejuvenation
RADIESSE® is the first and only FDA-approved product for hand augmentation to correct volume loss in the hands. RADIESSE restores volume to the hands while providing smooth, natural-looking results that can be seen immediately and can last up to one year.
Jawline Sculpting with Fillers
A strong chin and streamlined lower face are important elements of attractiveness, adding definition, creating symmetry, and bringing balance to facial features. Dr. Jarrous uses fillers such as Voluma or Radiesse to create your desired jawline.