Aesthetic Services
Aesthetic Services
Computer guided laser hair removal for men and women
FACE • NECK • UNDERARMS • ARMS • CHEST • BACK • LEGS • BIKINI • BRAZILIAN
Imagine having smooth, hair free skin without shaving, waxing, plucking, or bleaching your unwanted hair. Using the latest Fotona Laser technology with a computer guided scanner, we offer safe, fast, effective treatments for both men and women. And contrast to all other laser devices our laser will treat all skin types as well as tanned skin.
Unlike other treatments, our one of a kind computer guided scanner is able to treat large areas of your skin with accurate and operator error free process. It requires no creams or gels, no pre-treatment waxing, and no needles. In fact, Fotona Laser hair removal is a cosmetic breakthrough. Treatments are comfortable, treating hair follicles in a fraction of the time of other methods.
Traditional hair removal techniques, such as shaving, plucking, waxing and depilatory creams provide only temporary relief. Until now, the only recognized way to remove hair has been by electrolysis - which can be tedious, time-consuming and uncomfortable. The Fotona Laser safely removes unwanted body hair without damaging the delicate pores and structures of the skin. Facial and bikini areas are usually completed in less than ten minutes; legs, backs and larger areas can take longer.
Amarillo Laser & Vein Clinic offers a computer guided laser scanner which provides ultimate laser hair ablation coverage of the treated area and eliminate the common operator's errors with other manual lasers.
How it works
Lasers remove hair by destroying the blood supply to the hair follicle. When the procedure is performed correctly, all of the hair follicles with a blood supply will be destroyed during the treatment. The reason hair removal requires multiple treatments is because the hair grows in cycles. You have much more hair lying dormant under the skin than is actually growing at any given time.
The hairs typically change cycles about every 6 weeks. Therefore treatments must be performed about 6 weeks apart. This can vary slightly depending on the area of the body. Women usually require 3 to 6 treatments while men often require more. If someone tells you they can remove the hair in less than 3 or 6 treatments they are simply not being honest. It is very important to adhere closely to your laser schedule. Failure to follow your schedule will result in more treatments session than normal.
Why use ALVC?
ALVC uses the Nd:YAG laser for hair removal because of its ability to penetrate deep to the blood supply of the hair follicle. This makes our laser extremely effective in hair removal compared with the less effective intense pulse light technique (IPL).
ALVC has the only Computer Guided Scanner in the tri- state area. This eliminates operator error and provides a more comfortable and safe treatment for the patient.
Computer guided scanner
It is important to know that if you use a clinic without the computer guided scanner your results will mean more sessions to remove the missed hair because of laser operator failure. The term used today is the ZEBRA look, which appears with stripes of bare skin, then stripes of growing hair. ALVC made the commitment years ago to invest in the newest technology known as the Computer Guided Scanner this ensures that the patient receives the best results while saving them time and money.
Why should you consider a computer guided scanner?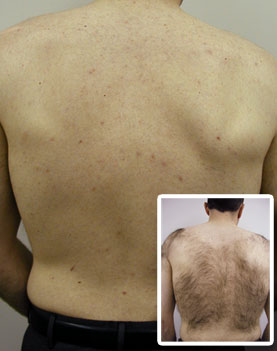 Pictures are courtesy of "Clinical procedures in laser skin rejuvenation"