Aesthetic Services
Aesthetic Services
Skin Rejuvenation in Amarillo, TX
What is Acne?
Acne is the term for plugged pores such as blackheads and whiteheads, pimples, and even deeper cysts that occur on the face, neck, chest, back, shoulders and even the upper arms. While not a life threatening condition, acne can be upsetting and disfiguring. When severe, acne can lead to serious and permanent scarring. Sometimes even less severe cases can lead to scarring. There are many types of acne. The most common is called acne vulgaris.
Just beneath the surface of the skin lie hundreds of tiny glands called sebaceous glands. Their function is to collect and excrete an oily substance through tiny pores to keep the skin healthy. These tiny pores often become clogged, and a bacterium called p. acnes grows inside. In a short time, the area swells up, and forms a pimple on the skin. At certain times of life, this process becomes very active, troublesome and hard to control.
Who gets acne?
Acne affects most teenagers to some extent. Almost everyone goes through a period of acne at one time or another. The disease is not restricted to any age group. Many of people are able to manage their acne with over-the-counter nonprescription treatments. For some, however, acne is more serious. In fact, by their mid-teens, more than 40% of adolescents have acne severe enough to require some treatment by a skin care professional.
In most cases, acne starts between the ages of ten and thirteen and usually lasts for five to ten years. It normally goes away on its own sometime in the early twenties. However, acne can persist into the late twenties or thirties or even beyond. Some people get acne for the first time as adults.
Acne affects young men and young women; however men are more likely than women to have more severe, longer lasting forms of acne. In contrast, women are more likely to have intermittent acne due to hormonal changes associated with their menstrual cycle and acne caused by cosmetics. These kinds of acne may effect young women well into adulthood.
Which acne treatment is best for you?
There are many treatments for acne, creams, washes, medications. There are also more professional treatments for acne including microdermabrasion, chemical peels, and other laser devices. If your acne has not responded to conventional treatments, maybe its time to consider something different, The Fotona Laser Acne Treatment (check our before and after pictures). Contact Amarillo Laser & Vein Clinic to set up your complimentary consultation to discuss a treatment option that may work for you.
Laser Collagen Remodeling
WHAT IS LASER COLLAGEN REMODELING?
Our Fotona Nd:Yag laser is a 1064 nanometer laser that penetrates to the collagen layer in your skin to gently heat and stimulate new growth of collagen resulting in tightening of the skin. This very safe and non-invasive procedure is often called the "lunch hour face lift". Collagen is the "backbone" or structure to our skin, much like the framework to a house. As we age, our collagen bands relax, causing our skin to sag and develop lines and wrinkles. Just like going to a gym and lifting weight stresses muscles, resulting in new muscle growth and toning, this deep heating of the collagen also results in new collagen growth.
How will my skin look after treatment?
Our Fotona Nd:Yag laser is safe on all skin types. In most people there is no redness or peeling of the skin after laser treatment. A computerized scanner will safely and evenly provide a pattern of pulses over the entire face. The neck may also be scanned. This treatment can be completed in as little as 45 minutes.
How many treatments will I need?
Just like you cannot lift weights one time to tone muscles, you must begin with series of treatments. A minimum of three treatments, four to six weeks apart, are recommended. Follow up treatments will be needed to maintain continued collagen growth.
How long will it take to see results?
Because we are stimulating your own collagen to grow, results will not be seen overnight. This is a gradual change which will be seen over weeks to months. Your age and general health will affect your individual results.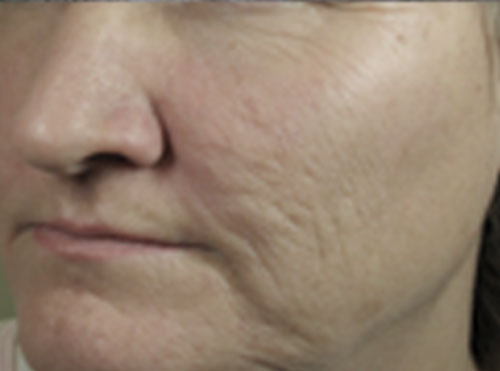 Fotona 4D™
MULTIPLE MODALITIES FOR ENHANCED RESULTS
Synergistic treatments from two wavelengths synergistically working together ( Nd:YAG and Er:YAG wavelengths), and applied in 4 different laser modes to work on deeper, medial and superficial connective structures of the skin, while simutaneously targeting different skin imperfections. Fotona's 4D laser treatment enables full-thickness contraction of collagen for persistent, low-downtime tightening and volumization (wrinkle reduction) without injectables.